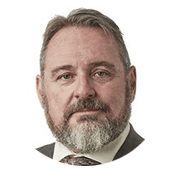 Gareth has held a number of senior leadership roles in Government. He has also worked at the interface between New Zealand business and international customers. He has worked on Producer Board reform, regulatory system design, Institutional and governance reform and infrastructure funding issues. Gareth is committed to delivering enduring solutions that work in the real world.
Gareth has had an extensive career in central government, having worked at Treasury, the State Services Commission, and held senior management roles at New Zealand Trade and Enterprise, and the Ministry of Transport.
Gareth is an expert on funding and business case issues, with a toolkit that includes public policy, public sector finance, governance, institutional reform and regulatory economics.
While at Treasury, Gareth was involved in Producer Board reform, and institutional reform of MAF, Forestry and Fisheries. He was involved in the creation of the Food Safety and Biosecurity Authorities, and the corporatisation of MAF Quality Management. He worked on security and defence funding issues from 2001 to 2006, including a six-month stint seconded to NZDF to lead the Defence capability and resourcing project.
During his time at NZTE, Gareth was the Chief Economist/Director of Strategy, and led the work programme on Māori Economic Development, Global Agribusiness, and on strengthening exporting company governance and strategy to withstand the (then) emerging Global Financial Crisis.
More recently he has worked extensively in the Transport sector, where he led the last two Government Policy Statements for Land Transport (New Zealand's investment strategy for $3 billion per year). Gareth also led the development of the business case to fund the reinstatement of the South Island Transport Corridor following the Kaikoura Earthquake. Gareth also led the team responsible for advising on Crown entity performance.
Gareth has also spent considerable time offshore, and has represented New Zealand at the World Bank, IMF, the ADB, and at the APEC Economic Committee and Pacific Forum Finance Ministers process.